Thu 15 Sep 2011
Win a copy of Witchlanders! Details at the end of this post.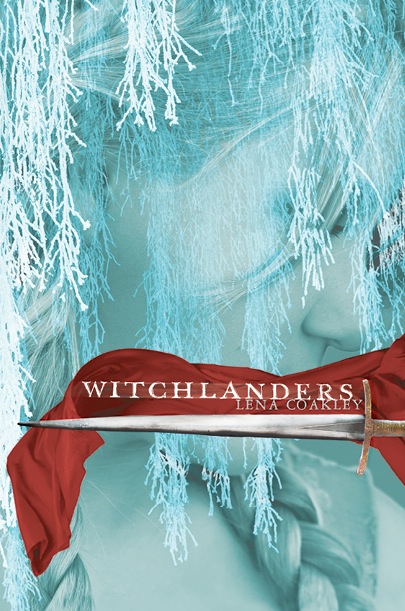 Chapter One

Flowers and Bones

Ryder woke to the sound of clattering bones. A red curtain separated the sleeping area from the main room of the cottage, and he could see the faint flickering of candles through the fabric.

"Skyla," he whispered.

Even in his sleep he'd known there was something wrong. A feeling of dread lay heavy in his stomach. Next to him in the long bed, Ryder's two younger sisters were quiet. Pima, the little one, lay diagonally with the covers bunched up around her. Her mouth was open and she was snoring gently. Skyla was pressed into the corner.

"Sky…" he began again.

"I know," she said. There was nothing sleepy about her voice. He wondered how long she'd been awake.

"Why didn't you do something?" Ryder flung off the bit of tattered blanket that covered his legs. "Why didn't you wake me?"

The dirt floor was cold under his bare feet. He'd grown tall in the past year, too tall for the low doorframe that led to the main part of the cottage, and he hunched a little as he peered around the red curtain.

Mabis, his mother, was squatting on the floor, picking up bones. A goat's femur, a horse's rib. They were dark with age and etched with thin lines. She placed each one into a wooden bowl as large as the wheel of a donkey cart.

"Tell me who it is," she murmured. "Tell me." Smoke from the fire hung around the room, making rings around the candles.
---
About the book:
High in their mountain covens, red witches pray to the Goddess, protecting the Witchlands by throwing the bones and foretelling the future.
It's all a fake.
At least, that's what Ryder thinks. He doubts the witches really deserve their tithes—one quarter of all the crops his village can produce. And even if they can predict the future, what danger is there to foretell, now that his people's old enemy, the Baen, has been defeated?
But when a terrifying new magic threatens both his village and the coven, Ryder must confront the beautiful and silent witch who holds all the secrets. Everything he's ever believed about witches, the Baen, magic and about himself will change, when he discovers that the prophecies he's always scorned—
Are about him.
What people are saying:
"Exquisite storytelling plus atmospheric worldbuilding equals one stunning teen debut."–Kirkus Reviews (starred review) Read the full review here.
"Plot twists unfold at a riveting pace, the boys' characters are compellingly sketched, and Coakley explores her subject matter masterfully without falling prey to safe plot choices."–Publishers Weekly (starred review) Read the full review here.
"As unique and enchanting a world as Garth Nix's Abhorsen myth: here's a thrilling tale of the clash between two magical races, Witchlanders and Baen, seen through the eyes of very likeable young characters. And it's written in beautiful prose. Warning – you may stay up all night until you are finished and you will want more! Lena Coakley is definitely a new star in the fantasy firmament."–O.R. Melling, author of Chronicles of Faerie
Released: August 30, 2011
About the author:
Lena Coakley was born in Milford, Connecticut and grew up on Long Island. In high school, creative writing was the only class she ever failed (nothing was ever good enough to hand in!), but, undeterred, she went on to study writing at Sarah Lawrence College. She got interested in young adult literature when she moved to Toronto, Canada, and began working for CANSCAIP, the Canadian Society of Children's Authors, Illustrators and Performers, where she eventually became the Administrative Director. She is now a full-time writer living in Toronto. Witchlanders is her first novel. You can visit her at lenacoakley.com.
Giveaway:
Lena has been kind enough to contribute an copy of Witchlanders for a giveaway!
Just comment on this post to enter.
For extra entries:
-Be a follower of this site (just click "Join this site") or a follower on Twitter [+1 entry each].
-Link to this contest on Twitter, Facebook, etc. [+1 entry per each link].
Please list your extra entries in the comments.
The contest is open in the US and Canada, and ends on September 27th at midnight EST.
Good luck and happy reading!
19 Responses
Trackbacks & Pingbacks: